---
The Germ that causes Cancer Handbook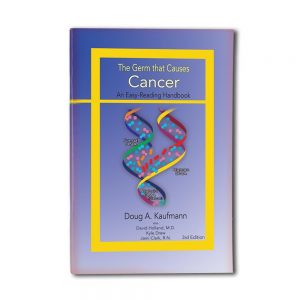 Nothing is more frightening for most people than to hear the words, "You have cancer." If the billions upon billions of dollars spent on dealing with cancer had worked, those words wouldn't be scary at all! Yet, we all know that this disease is unique in the fear it provokes. It seems like it's time to change direction, and The Germ That Causes Cancer offers a fresh perspective.
Far from promoting "miracle supplements" that promise much, but deliver very little, this book offers both patients and doctors an idea that science is continually proving to be valid: Perhaps cancer is the result of an often-overlooked germ entering the body's cells and wreaking havoc.
This germ is common in our food supply, our air, our water and has been proven to multiply in the presence of many popular medications. Just one of the thousands of poisons this germ makes has been called, "The most notorious natural carcinogen on the planet." It's time to put the years of failed searching aside, and begin paying attention to the known cancer-causing effects of fungus.
This book was written to be an introduction to the fungus link to cancer. It is written so that cancer patients can easily digest it, and that their doctors can feel comfortable researching the concept further. Many doctors have reported that their entire approach to cancer changed upon learning Doug Kaufmann's theories of cancer and cancer treatment, and their patients have benefited tremendously.
The book is a quick read that introduces the concept of fungus and it's link to cancer, confessions of a former chemotherapy sales representative, and the perspective of a physician who answers the question, "What would I do if I had cancer?" The book also includes details of Doug Kaufmann's Kaufmann 1 Diet and his Fungal Quotient in-home questionnaire. View this book in our store.
NOTE: Kaufmann takes this subject seriously, and is sensitive to patients, their families, and their physicians. This isn't a book that is designed to cleverly market products. There are no "miracle machines" for sale. There are also no thin promises. The subject is serious, and so is the tone of The Germ That Causes Cancer. Doug isn't diagnosing or attempting