This Healthy Fruit Is Your Best Friend On The Kaufmann Diet
Avocados are among the healthiest foods you can eat, much to the happiness of dieters. Avocados are a delicious, versatile fruit that is available virtually year round. Their creamy texture and rich flavor lend them equally well to both savory and sweet flavors.
In fact, avocados are among the only fruits that are allowed on The Kaufmann Diet. On the Kaufmann Diet, you are eliminating most fruits, including bananas, melons, oranges, and most apples. The reason behind eliminating most fruits––a food group we're generally advised to eat more of, not less––is that fruits are high in sugar.
Sugar has been implicated in a number of diseases, from heart disease to cancer, to diabetes. Sugar promotes inflammation inside the body, something researchers have determined is a key factor in a wide variety of diseases. Sugar, however, also feeds another malevolent force against poor health: Yeast. The primary goal of the Kaufmann diet is to reduce yeast growth in the body.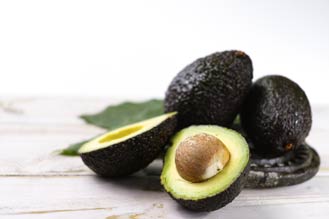 Avocado is good for your skin and hair.
Avocado is a rich source of vitamin E, which is beneficial for skin health. Vitamin E may also help to thicken hair. Vitamin E can act as an antioxidant, repairing skin damaged by free radicals.
Avocado Helps You Absorb Other Nutrients
Certain nutrients, such as carotenoids, need fat in order to be absorbed properly. Often, many foods that are rich in nutrients, such as carrots, kale, etc., are low in fat. Adding avocado in with these foods will help boost the nutrient absorption rate.
Avocado is good for your heart.
Avocado is rich in monounsaturated fat and oleic acid, which are beneficial for promoting a variety of heart health factors. Notably, cholesterol levels can be improved.
Avocado is a rich source of fiber on the Kaufmann Diet.
On the Kaufmann Diet, you are eliminating grains, including whole grains, which constitute most peoples primary source of fiber. 1 cup of avocado, however, contains 40% of the daily recommended amount of fiber, a nutrient most Americans do not get enough of. Fiber assists in maintaining regularity, lowering cholesterol and improving heart health.
Nutrients in avocado might help kill fungi.
As a very low-sugar food, avocados are a good part of an anti-fungal diet. Oleic acid, however, may be beneficial against some kinds of pathogenic fungi, making avocado even more attractive to those on the Kaufmann Diet.
Michael's Avocado Protein Shake Recipe
I eat approximately one avocado every day, typically in shake form. This shake gets me through the morning and well into the afternoon.
1 scoop vanilla whey protein powder
1 cup coconut water
1 whole medium avocado
1 handful of frozen blueberries
1 handful of frozen spinach
almond milk as needed
Blend until smooth, enjoy immediately.
---
Michael's Guacamole Recipe
Everyone has their own way of doing it, this is mine. It's usually a hit; there's never any left over! This recipe is easily doubled, tripled or quadrupled, depending on the number of people.
1 ripe avocado
Juice of 1 lime wedge (about a 1/5 to 1/4 of a lime)
1 large clove of fresh garlic, minced through a garlic press
Pink Himalayan sea salt, to taste
2 tablespoons finely chopped cilantro, stems removed
2 tablespoons finely chopped purple onions
Mash avocado until very smooth. Add lime and salt, stir until blended. Taste to decide if you need more salt; it is best to start with just a little! Stir in cilantro and onions.
Serve with carrots, broccoli, cauliflower, or on top of (tortilla-less) fajitas. Sometimes I just eat it with a spoon!